Introduction

Trentham Dog Training School
Friendly training for all dogs and owners.
We welcome all dogs and owners for obedience training from puppy stage to advanced levels.
All our training is done using lots of praise and rewards (usually in the form of treats or toys). We stock a range of suitable treats, training toys and equipment (for dogs) and tea and coffee (for humans!).
There are toilet facilities on-site for humans - please read the simple rules regarding dog waste.
See below
for details of training session times.

Direct Dogs
For all canine TV, film and photographic work.
Looking for a particular breed? Maybe you want a scruffy little dog with bags of character? Perhaps you're not sure what you're looking for, but have a good idea of the role it will play.
Direct Dogs can provide the right dog for your production.
See our Media section below for examples of our work, and contact me on 01782 374411 or use the contact details found at the bottom of the page to give us a quick outline of the requirements.
Trainers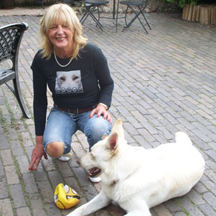 Su Harvey M.B.I.P.D.T.
Head Trainer, Dog Behaviourist, Proprietor of TDTS and Direct Dogs
Su Harvey has worked as a Dog Trainer and Behaviourist for over 35 years and is well known for her extensive knowledge of dog training techniques. She has appeared in the media discussing dog-related issues and responded to radio phone-ins from concerned callers. A longstanding Member of the British Institute of Professional Dog Trainers (MBIPDT), Su keeps up to date with current industry best practice. She is assisted by a number of instructors, each an experienced dog handler and identified in School by their black overalls.
Click here to email Su Harvey or call 01782 374411 for more information.
Opening Times and Fees

Opening Times
IMPORTANT
: Enrolment in advance is necessary - please do not turn up without already being enrolled via our Facebook, email or telephone.
Puppies under 6 months:
First lesson - 6.00pm Fridays then Wednesdays at 6.45pm thereafter.

Puppy classes introduce:
• Socialisation with other dogs and people
• Heelwork
• Sit and stay
• Recalls (calling your dog back to you).
Adult Dogs & Puppies over 6 months:
Enrolment & first lesson: 6.00pm Fridays.
Then subsequent classes are on Monday, Tuesday or Thursday at 6.45pm.
More advanced classes may further develop the skills you and your dog have learnt over the weeks. This can include distance work, seek and other skills.

Fees
The fees for a course of 10 consecutive weeks are:
• £95 for the first course
• £90 for the second course
• £85 for the third course
• £80 thereafter.
We can accept CHEQUE, CASH or BACS payment
Please note: a current Vet vaccination certificate must be produced on registering.
If you would like to discuss any issues before attending (particularly serious behavioural problems your dog has displayed), please use the
contact details
at the bottom of this page or telephone us on 01782 374411.
We can assist with problems you may have with your dog but it may be best dealt with away from the regular classes as the distraction of other dogs may hinder progress. We have turned around the lives of many traumatised and neglected rescue dogs brought to us.
One to one consultations
are available by appointment only.  These are suitable for anyone whose dog is showing aggression, very nervous dogs or for problems that you feel you may need extra help with.
The cost is £85 for approximately 1 hour.
A few simple rules
Safety
Obviously, this is very important to us and we ask that visitors be aware of what their dog is doing at all times.
Children
We welcome children, but we do ask that they behave appropriately. Distracting behaviour can be detrimental to the concentration of the dogs and handlers in the arena - this could result in a dangerous situation.
Clothing
Please wear suitable clothing for training - sturdy footwear and casual trousers are best - warm clothing in winter months. We've known someone to arrive in heels (it WAS a woman I add) - of course she did find it difficult to control her dog!
Poo!
We request that owners bring plastic bags to collect their own dog's 'deposits' and take them away from the site. There are a number of disinfectant sprays situated around the school to spray areas when your dog has had a wee or poo.
Location
Trentham Dog Training School is housed in a purpose-built indoor training school with non-slip sand floor. You can find us at Hartwell Lane, between Rough Close and Barlaston, on the outskirts of Stone, and just a short drive from the Potteries. (SATNAV ST15 8TL) We are next door to Stoke Rugby Club.
Please use the left hand drive as you enter. On busy nights please park close to other vehicles.

Good Pup, Good Dog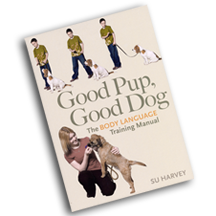 If you can't make it to a course of lessons then the next best thing is to follow the simple steps within our book 'Good Pup, Good Dog' (£9.99 + p & p).
In it you will find answers to the kind of questions that arise from owning a dog, from puppy through to adult.You can order it using the
contact details
below or by calling 01782 374411.
Direct Dogs' Film & TV Work
If you are in Film, TV production or Advertising then you have found the right company for the right dog!
Whatever your brief, Direct Dogs can help find the right dog for your production - Direct Dogs is the complete resource for canine TV, film and photographic work in the Midlands and North West of England.
Take a look at the examples below and then use the
contact details
at the bottom of the page to give us a quick outline of your project and requirements - or for more urgent requests call Su on 01782 374411.
Direct Dogs is situated in the Midlands within beautiful countryside and just an hour's drive from Birmingham, Nottingham, Liverpool and Manchester. We have over 150 trained dogs on the books of our sister company Trentham Dog Training School - including some rare breeds and, of course, crossbreeds of all shapes and sizes.
FULLY LICENCED
Su Harvey, Trentham Dog Training School/Direct Dogs
License Number:
M090522 Click to view the certificate:

FULLY INSURED
Su Harvey, Trentham Dog Training School/Direct Dogs
Click to view the certificate:

Features
News of more events will be here soon - or visit our Facebook page.
Contact us
Click here to email Su Harvey (direct_dogs@btopenworld.com) or call 01782 374411 for more information.
Associates
In association with Direct Dogs and TDTS we also have links with COCOA - an animal cruelty protection charity. Please take the time to visit and if at all possible, help us with our aim to rescue abused animals.
We love to build relationships with other businesses in the local area and across the UK - please visit their websites to find great products, services and sometimes offers! If you have the chance, please mention that you came from our site.

£3 for you, £3 for COCOA, easy!
Use the code below for COCOA to receive a £3.00 credit for each new customer who spends more than £15.00 at VioVet - and you will get £3.00 off your order too! Code: VRCNJBYX3 - share the code with friends and they will get the same offer. Go to www.viovet.co.uk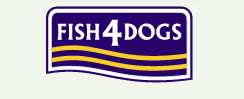 Fish4Dogs makes a range of super premium natural food and treats for dogs and cats with the important difference that they only use fish. http://www.fish4dogs.com/why-fish.aspx